Tuesday 28th September 2021
The Eco Natural washroom range is a highly sustainable and innovative product.
The paper and dispensers are made from recycled beverage cartons which reduces waste to landfill, saves CO2 emissions whilst also saving trees. The paper and dispensers can also both be recycled again resulting in a truly circular economy.
The product is manufactured in the North-West of France very close to the UK and the beverage cartons are collected and recycled in France as well.
Whilst the paper colour is a Kraft/light brown, this also means there has been no chemicals used to bleach the product white.
With a range of products to choose from, why not get in touch with one of the team today.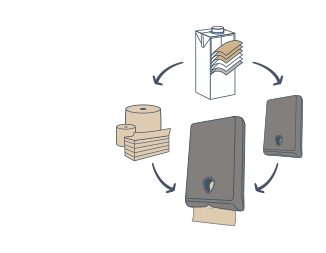 An example of the saving is, with 576 packs of Eco Natural "Z" folded handtowels, equivalent to the amount on a pallet, it is possible to: